Mozzarella sticks are delicious, but not something that's usually on the menu for someone who's avoiding gluten. So I thought I'd attempt to make a gluten-free version at home. I thought they turned out pretty well.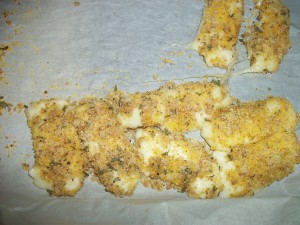 Ingredients:
12 sticks of mozzarella string cheese, unwrapped
2 Tbsp rice flour (or any gf flour blend)
1 egg
1 Tbsp (ish) milk
Approximately 6 Tbsp gluten-free bread crumbs*
3 Tbsp corn meal
1 Tbsp dried parsley
*If you have gluten-free bread (see our recipe here), you can make gluten-free bread crumbs fairly easily by toasting the bread (I used two heel slices for this recipe and had some left over) until they are well done (without being too brown!) and then grinding them up in a food processor. You can also add seasonings if you like. I added about 1/2 a teaspoon of salt, a tiny bit of pepper, a few shakes of Italian seasoning, and about 1/4 a teaspoon each of garlic powder and onion powder.
Directions:
1. Cut the string cheese sticks in half, place them spread out on a piece of parchment paper, and put them in the freezer for at least an hour.
2. Once they are frozen, remove and set up 3 dishes for the coating. Dish #1: flour. Dish #2: the egg and milk, beaten together. Dish #3: the bread crumbs, corn meal, and parsley, mixed together.
(If you are baking them immediately, pre-heat the oven to 400 degrees F)
Take each stick and dip it first in the flour, then in the egg mixture, shaking off the excess, then into the crumbs, turning and pressing to coat as evenly as possible. Then place it back on the parchment paper.
Do this with all 24 sticks. Once you are finished, you can return the pan to the freezer to cook them at a later time, or you can put them right into the oven. Be careful about putting a baking dish straight from the freezer into the oven. Most types should be left out to thaw for a while first. But if you're using parchment paper this is a non-issue, because you can very easily transfer the paper (if you have enough to grab on the edges!) into a separate dish for baking.
3. Bake at 400 for 4 to 5 minutes, and then turn the pan and cook 4 to 5 more minutes. I went a bit longer than 10 minutes on the ones in the picture, which is why they look a bit wider. Still just as delicious though!
Enjoy with gluten-free marinara sauce, or whatever condiment you prefer with mozzarella sticks.