One carryover from having gestational diabetes twice is that I have become at least somewhat more aware of how many carbohydrates I'm consuming in my regular diet. Carbs aren't inherently bad, of course, but the GD diet emphasizes combining a moderate amount of carbs with protein to help control blood sugar. For example, banana and peanut butter, an egg and toast, crackers and cheese, etc.
While I'm glad I don't have to follow a strict diet right now (and certainly am not averse to indulging now and then!), I wanted to find a way to incorporate more protein into my diet, especially when it comes to snacking. When hungry, I'm quick to just grab a handful of something, and that something tends to be all carbs. It seems a lot of protein sources are messier (peanut butter, cheese), need to be cooked first (meat, eggs), require refrigeration (meat, cheese, eggs), and are just generally a bigger hassle when you want something quick and/or portable.
Well, I can't claim to solve all of those problems with one recipe, but I will say that I have been looking for a good, reasonably healthy muffin recipe for a while now, something both my toddler and I liked, and so far this has been my favorite. The fact that they're very chocolatey doesn't hurt either! According to my calculations, each muffin contains about 5 grams of protein, and 2+ of fiber.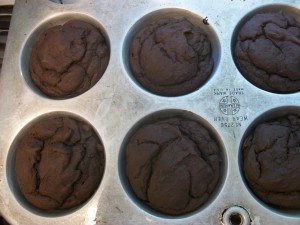 Some people may be weirded out at the idea of bean muffins, but I really can't taste the beans, especially with all the chocolate in there. The texture is a bit different, but I like it.
Being grain-free, these muffins would work great if you're avoiding wheat, gluten, or just grains in general. Or if you're just someone like me, who isn't, but thinks they're healthy and delicious, and loves chocolate. They're also very portable for snacking on the go.
Ingredients:
1 15.5-ounce can of black beans, drained
1 banana
1/2 cup peanut butter
2 tsp vanilla extract
1/2 cup cocoa powder
1 tsp baking powder
1/3 cup sugar or other sweetener*
1/2 tsp salt
2 eggs
1/2 tsp guar gum or xanthan gum**
Directions:
Preheat oven to 375 degrees.
Combine the drained beans, banana, peanut butter, and vanilla extract in a food processor, and blend until smooth. (Truth be told, my food processor is too small to fit the peanut butter too, so I just blend it in with the mixer later. It still works.)
Transfer the bean mixture to a bowl, and add cocoa powder, baking powder, sugar (or other sweetener), salt, eggs, and guar or xanthan gum, blending well with an electric mixer. Once everything is well blended, spoon batter into a greased muffin tin until all 12 cups are filled about halfway. The batter will be fairly thick. Bake for 20-25 minutes. I usually do 22 or 23.
I find these keep best in the fridge.
* – I have only tested this with white and brown sugar, but I'm sure there are other sweeteners that would work. I have never made these for any kind of diabetes diet, but I imagine it would work well with Truvia. If you try it, let me know how much works for you.
** – If you regularly do gluten-free baking, you probably have either guar or xanthan gum (or both) on hand. If you don't, you probably don't need to go out and get some just for this recipe, but the muffins will definitely be more crumbly without it. Vital wheat gluten may work as well, but I haven't tested that.